Turbo VPN - Undervalued or Overpriced? (5 Pros & 5 Cons)
Ahoy, matey!
I recently stumbled upon a VPN I've never heard of before: Turbo VPN.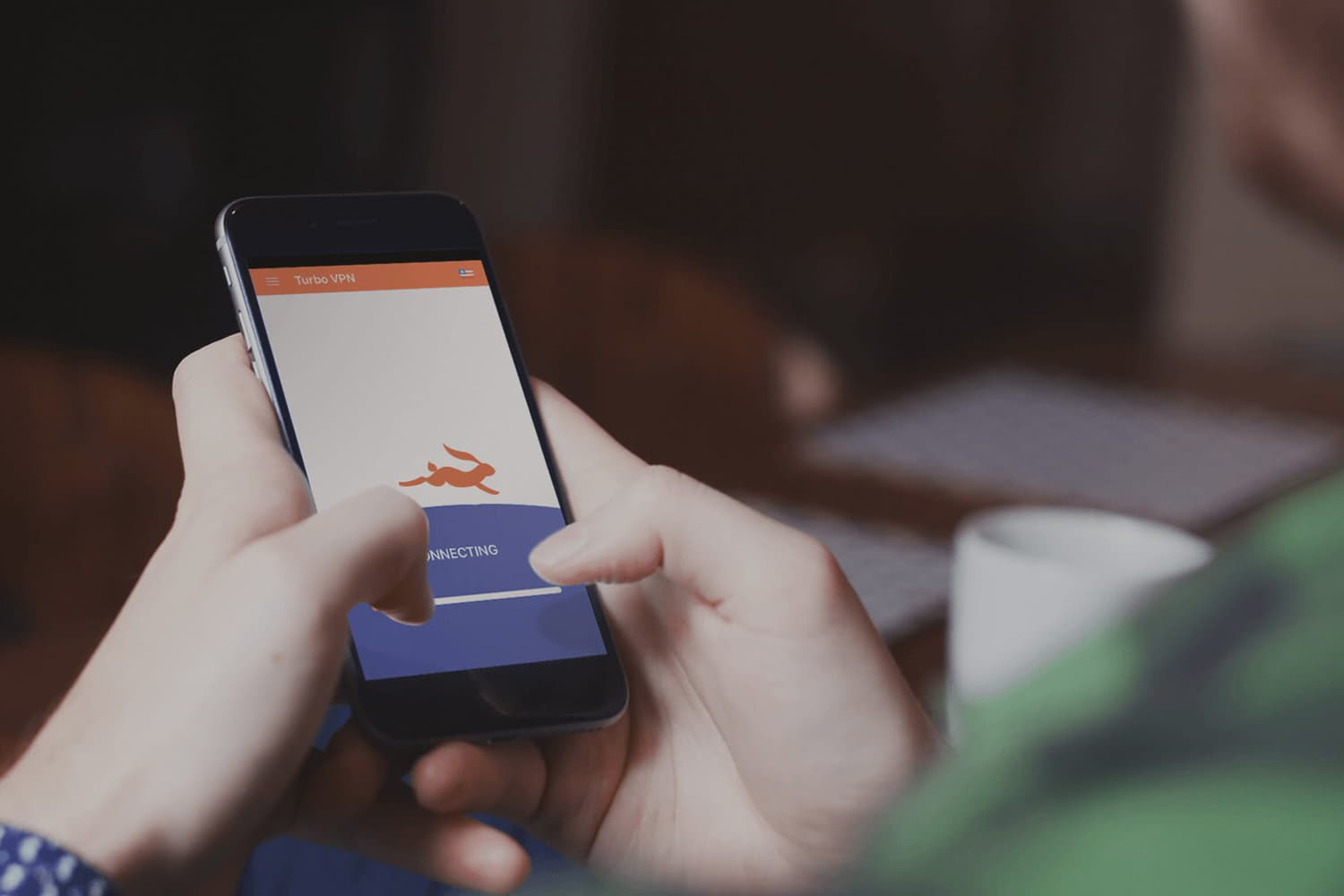 My first assumption was that it's not popular, or else I would have heard of it before, but then I realized it has more than 50,000,000 downloads on the Google play store alone, which surely raises the question: is Turbo VPN undervalued or is it just another overpriced rip-off?
Turbo VPN is a mobile-only free VPN with an optional paid subscription. As far as free VPNs go, Turbo VPN seems to provide the best service to quickly unblock a site, but it doesn't have the features, performance or privacy guarantees for more demanding users, even with the paid version.
Overview
What is a VPN?
Virtual Private Network (VPN) is the technology which enables routing one's device as if he was connected to a distant network.
For example, bank employees will use a VPN when working from home, which enables a secure connection to the bank's network, as if they were in the office.
By using a VPN, the connection is secure and encrypted, so no one in the middle can see your activity. By no one in the middle, I mean the local coffee shop where you work from, or even your internet service provider.
Another practical usage of a VPN, as it allows to you connect to a distant network, is to change location. If you're connected to a server in the US for example, you will get an IP address of the US and you'll have access to many services that are only open to the US, like Netflix for example.
What is Turbo VPN?
Turbo VPN is a popular mobile-only free VPN app for both Android and iOS.
As of December 2018, 1,663,719 reviewers rated it 4.7 on average on the Google play store, and 15,800 reviewers rated it 4.8 on average on the Apple app store.
Their free service gives you access to nine servers across North America, Europe and Asia, and there are no bandwidth limits or restrictions to hold you back.
As I'll detail later on they offer more features if you choose to pay for their VIP subscription.
Who's behind Turbo VPN?
Unfortunately we don't know much about the Chinese company behind Turbo VPN, which is never a good start. On the other hand, maybe it's not so bad when it comes to a privacy software?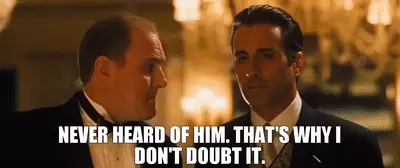 They only have a basic website and a Facebook page which doesn't reveal much, but has around 60,000 likes as of the writing of this article (December 2018).
Turbo VPN Reviews - December 2018
There are some deep reviews out there, I summarized the top 5 for your convenience:
Techradar says that Turbo VPN works well as a simple free service for basic site unblocking, browsing and video streaming needs. It has too many issues to compete with the big-name VPNs, though - permissions required, logging concerns, lack of features - and demanding users will be much better off elsewhere.
Thebestvpn don't recommend Turbo vpn: "Don't get me wrong, as far as free VPNs go, this is one of the best. That's not saying much, though. You can't choose your own servers. The performance was incredibly slow. They log your activity, sell ads against your browsing data, and are only available on mobile devices."
Vpnfan is not a big fan of it either: "You should always protect yourself when you are on WiFi. The free service is slow, leaky, and untrustworthy. That said, it may be only slightly better than using nothing. Just remember that you will only be able to connect to the USA, UK, India, or Singapore if you use the free version. It could help you get around geo-restrictions if you want to use something like SoundCloud, Pandora, or others, but that is all you should expect from it."
Cooltechzone review is more positive about it: "Turbo VPN provides its consumers with a stable and reliable internet connection. In general, it's a simple tool which enables you to access any blocked content on the web, bypass firewalls and use free WiFi hotspots in a secure way."
Lastly, vpnranks seems to agree with all of the above: "The service is beneficial for those users who do not want to spend a single penny to attain online freedom and security. Our analysis indicates that the service is not a bad choice in terms of price and performance."
And here are some social media reactions:
5 reasons to use Turbo VPN
It's free
And who doesn't like free stuff? So if it's good enough for your needs, why paying?
Uses OpenVPN Protocol
Turbo VPN utilizes the OpenVPN tunneling protocol. OpenVPN protocol is open sourced, and it's constantly upgraded by a community of techies.
Also, OpenVPN uses a military grade encryption that has so far proven to be impenetrable. So much so, that even corporate giants who invest billions in cybersecurity use this encryption level.
Compatible with Netflix
If you'd like to unblock Netflix in your country, or access movies and TV shows that are not available in your country's Netflix version, I recommend checking out the complete guide to watching Netflix using a VPN.
Netflix constantly block VPN servers from allowing users to manipulate their geo-location.
There are only a few VPN providers who have dedicated servers guaranteed to work with Netflix.
While our recommendation is to use ExpressVPN, you'll be happy to know that Turbo VPN is among the providers that have specified servers for this purpose.
Unfortunately those servers aren't available for the free version, so you will need to get the paid subscription if Netflix is what you're after.
Other than Netflix, the free version of Turbo VPN does unblock YouTube in countries where the site is officially banned. Which is why Turbo VPN is extremely popular in countries like Iran and China.
No problems with Torrenting
If you're one of the few who downloads torrents on their mobile devices, be happy to know that Turbo VPN is fine with it.
Turbo VPN does not offer dedicated P2P servers, but it does not discourage the users from torrenting. It neither throttles your bandwidth for torrenting nor does it suspend your service.
No DNS or WebRTC Leaks
Leaks are nightmare for online privacy seekers, they expose your identity without before you even realize what has exactly happened.
DNS and WebRTC are the two common forms of IP leaks. They occur when the VPN tunnel fails to mask your actual IP address.
VPNranks tested Turbo VPN for DNS and WebRTC leaks, and the results showed that this VPN is safe.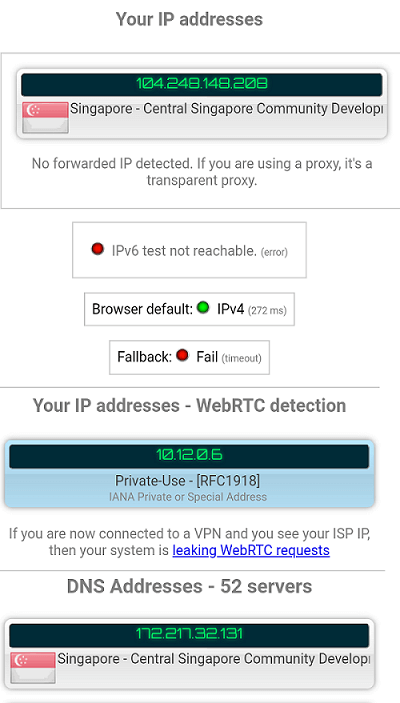 Vpnfan used doileak and found some leaks, however they explain that the issues came from problems with mobile browsing and not from the specific VPN service.

5 reasons not to use Turbo VPN
It only works on smartphones
As I mentioned earlier, Turbo VPN only has an Android version and an iOS version, that's it.
If you're looking for one solution for all of your devices, Turbo VPN is not for you.
Based on advertisements
Like all other free services, Turbo VPN will show you ads to pay for their expenses.
Of course those will disappear once you pay for their VIP subscription.
Slow Connection Speed
Having "turbo" in its name, one would assume it's going to be a vast VPN.
Unfortunately, Vpnranks tested it and found otherwise.
This was the speed before connecting with the VPN:

After connecting to Turbo VPN the speed decreased drastically:

Techradar's performance tests gave better results. UK to UK connections typically managed 10-15 Mbps downloads. Switching to other European servers - France, Netherlands, Germany - saw speeds fall to 5-8Mbps. US connections struggled to 5-6Mbps, and the India server averaged 4Mbps.
That's less than what you get from a paid VPN, but probably good enough for web browsing securely for free.
Located in China
I couldn't find a definite proof that that Turbo VPN is located in China (comment below if you have it), but all expert reviewers claim so and I tend to believe them.
Chinese government is very strict with their restrictions and VPNs are heavily regulated.
The only reason to believe the Chinese government will allow Turbo VPN to bypass its own restrictions, is if they have some sort of control and monitoring over it.
Of course this is just a theory, there's absolutely no way to prove it.
No Additional Features
Most VPN products have a wide array of privacy tools, unfortunately Turbo VPN doesn't have any of the following:
No kill switch
No ad-blocker
No multi-hop
How much does Turbo VPN cost?
Turbo VPN is free both on Android and iOS.
The free app does include ads, which is no surprise - they need to get money somehow to operate their service.
Upgrading to a VIP Account removes the ads, gets your more servers to connect to (including a dedicated Netflix server), faster speeds, and allows you to connect up to five devices simultaneously.
VIP subscription prices are pretty straightforward:
1 Week - First 7 days free, then $9.99/week
1 Month - First 7 days free, then $11.99/month
1 Year - First 7 days free, then $35.99/year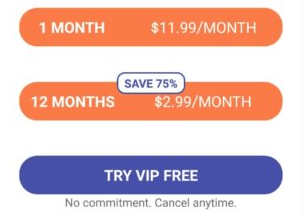 When using the standard service, you have access to about 7 locations in 6 popular countries. Those include Canada, United States, United Kingdom, Netherlands, Singapore, and India. Additional premium server locations include Australia, Japan, Singapore, Russia, Germany, Sweden, and others.
Available Versions
Use these words in each section: download
Download Turbo VPN for Windows PC, Mac or Chrome
Let me save you some time, if you're looking to download Turbo VPN for your PC, Mac or Chrome browser, forget about it, there is no such thing.
If you searched online and found links to download Turbo VPN for windows 10, those are spam links that will lead you nowhere, spare your time and get a different VPN, such as the great ExpressVPN.
Turbo VPN for Amazon Fire TV Stick
Unfortunately Turbo VPN does not have a version for Firestick, so if you search for it and find a link to download such version, I'd recommend staying away from it, as it's very likely to be a scam.
Turbo VPN app for Android
It seems like Turbo VPN was removed for the Google Play Store for a while, which led to many people searching on google for the APK files for download.Those are not needed anymore, stay safe and download the app from the origin, the Google Play Store.
Meanwhile, so many developers took advantage of that and published their own version of "turbo vpn":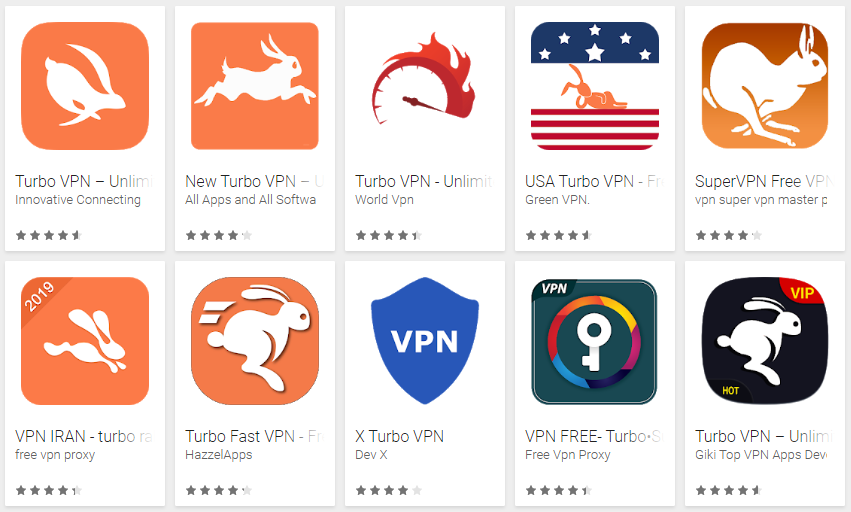 Avoid confusion, here's the link to the real product, it's live on Google Play Store: Turbo VPN - Unlimited Free VPN & Fast Security VPN
If you are one of those looking for turbo vpn pro apk or turbo vpn vip apk, please remember that VPN Is a service and not just a downloadable product. You will have to authenticate with your own username in order to get the VIP subscription, which means there's no point in downloading a hacked version of the product, it's most likely a scam that will just show more ads on your phone.
Here's what the app looks like after you install it: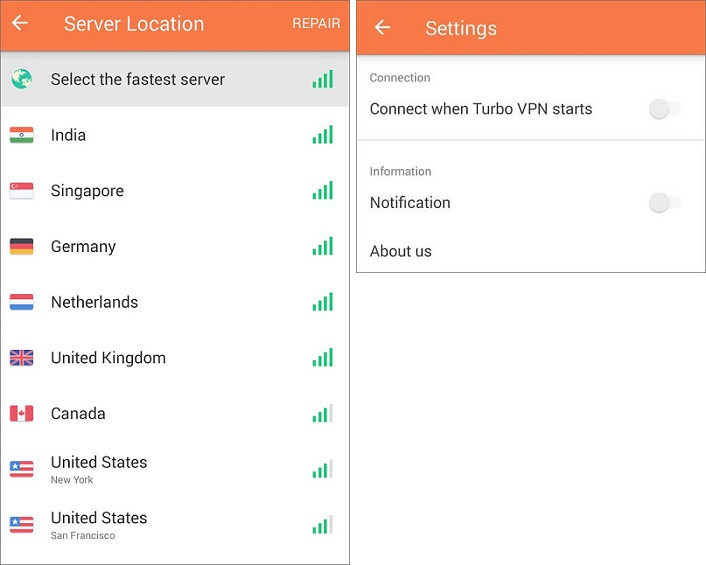 Answers to common questions
I've researched online and collected the answers to the frequently asked questions about Turbo VPN.
If you have another question that isn't answered here, please let me know and I'll do my best to help.
Is Turbo VPN safe and legit?
With over 50 millions downloads around the world and no public scandals so far, it's fair to assume that Turbo VPN is safe and legit.However, a VPN is a service that really needs to be trusted, as it gets to see all your online activity passing through it.
Personally I would recommend spending a few pieces of eight (or dollars, if you're no pirate) a month and use ExpressVPN instead.
Techradar made a good point that is worth mentioning here.
They looked at the permissions required for the app to install, and it turned out to be a lot. While other big-name VPNs only require access to in-app purchases and Wi-Fi connections, Turbo VPN also needs your device and app history, your identity, your photos, media and files, your device ID, and your call information.
Bottom line, if Turbo VPN is doing anything suspicious with your data, that's what could be compromised.
Does Turbo VPN keep logs?
Yes and No, depends on what kind of logs.
Should you care about it? Depends on your usage and privacy concerns.
Reading their privacy policy, Turbo VPN states that "The Turbo VPN network is a no-log network. Except for the limited exceptions below, we do not collect any information transmitted through our network. More specifically, we do not collect any information regarding the websites you visit or the IP addresses assigned to you when you access the Turbo VPN Private Network, and with respect to our VPN service, we do not collect any data stored on or transmitted from your device, including any data that applications on your device may transmit through our network."
Unfortunately, they also state that "Turbo VPN will only collect personal information needed for it to properly conduct its business and only collect it by fair and lawful means." which is open to so many interpretations.
How to use Turbo VPN?
You can start using Turbo VPN by following a few easy steps:
Download the Android app from the official Google Play Store or the iOS app from the official Apple App Store.
Open the app.
Tap to connect.
Browse the web securely and privately.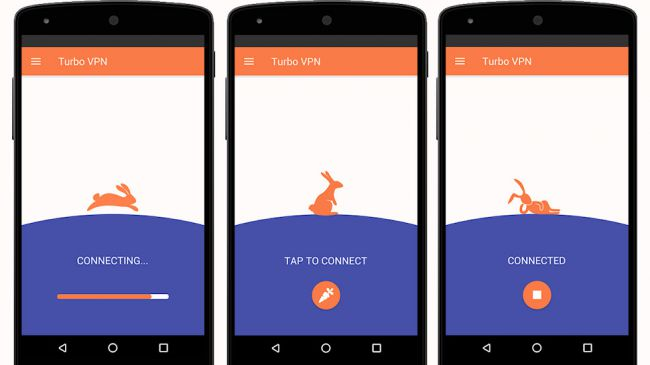 Bottom line
Turbo VPN is a free, ad based, mobile-only VPN service.
It's not great, but might be good enough for your needs, so go ahead and give it a try.
If you feel you need more, you can subscribe to the VIP version, but there are other products which will get you a much better value for money, so I recommend checking them out, ExpressVPN is my personal recommendation.
Have you tried Turbo VPN? Was it a great experience or an awful one? Please comment below and let us all know.
And one last personal favor, please help me spread the word by sharing my article on your favorite social media.
Thank ye,
Prof. Blackbeard
---
Share