Avast SecureLine VPN Review
In today's world, browsing the internet in a secure fashion has become paramount. With different cyber threats lurking behind each corner, securing the connection with another layer of protection is definitely a must. This is why the VPN service industry flourished. Avast SecureLine VPN comes from Avast Software s.r.o., a company that has already established a name in the online security sphere.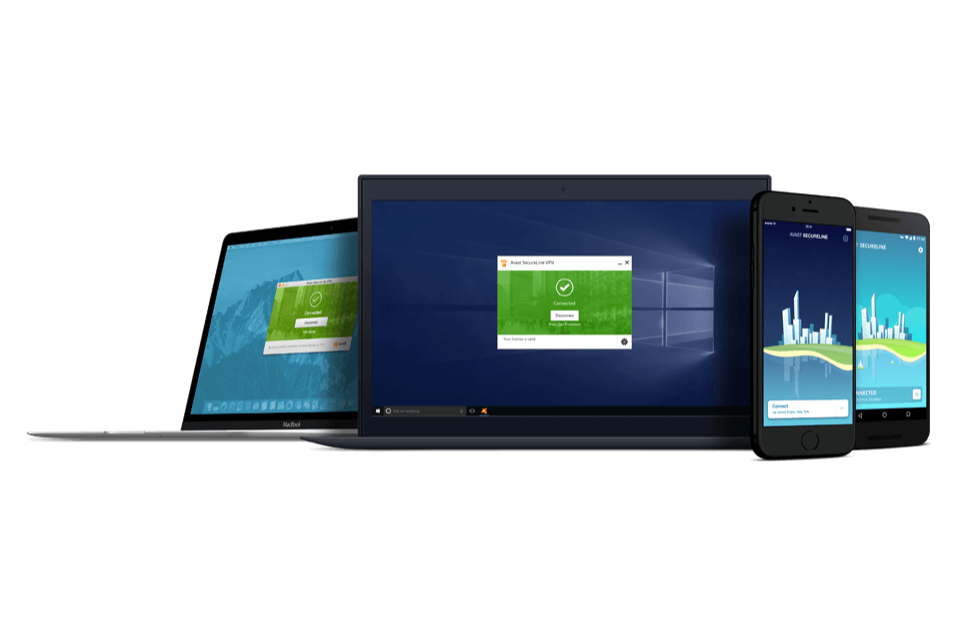 Avast SecureLine VPN is an ultra fast and very safe VPN. We have decided to take it for a test drive to help you make a smarter decision if you plan on using a VPN. Here is what we have found out.
What is a VPN?
VPN stands for Virtual Private Network. It is a service that allows you to access online content in a safe and private fashion. This is not the only use case. A VPN service is often sought by those who want to access geo-restricted content.
A VPN actually routes your connection through the service provider's network. You appear as if you were accessing the internet from another place. At the same time, your IP address remains hidden and your data encrypted.
About Avast Software s.r.o.
Avast Software s.r.o. is one of the global leaders in digital security products. This security software development company was founded in 1988. Over the years, they have developed a number of security solutions to protect their users from both online and offline threats.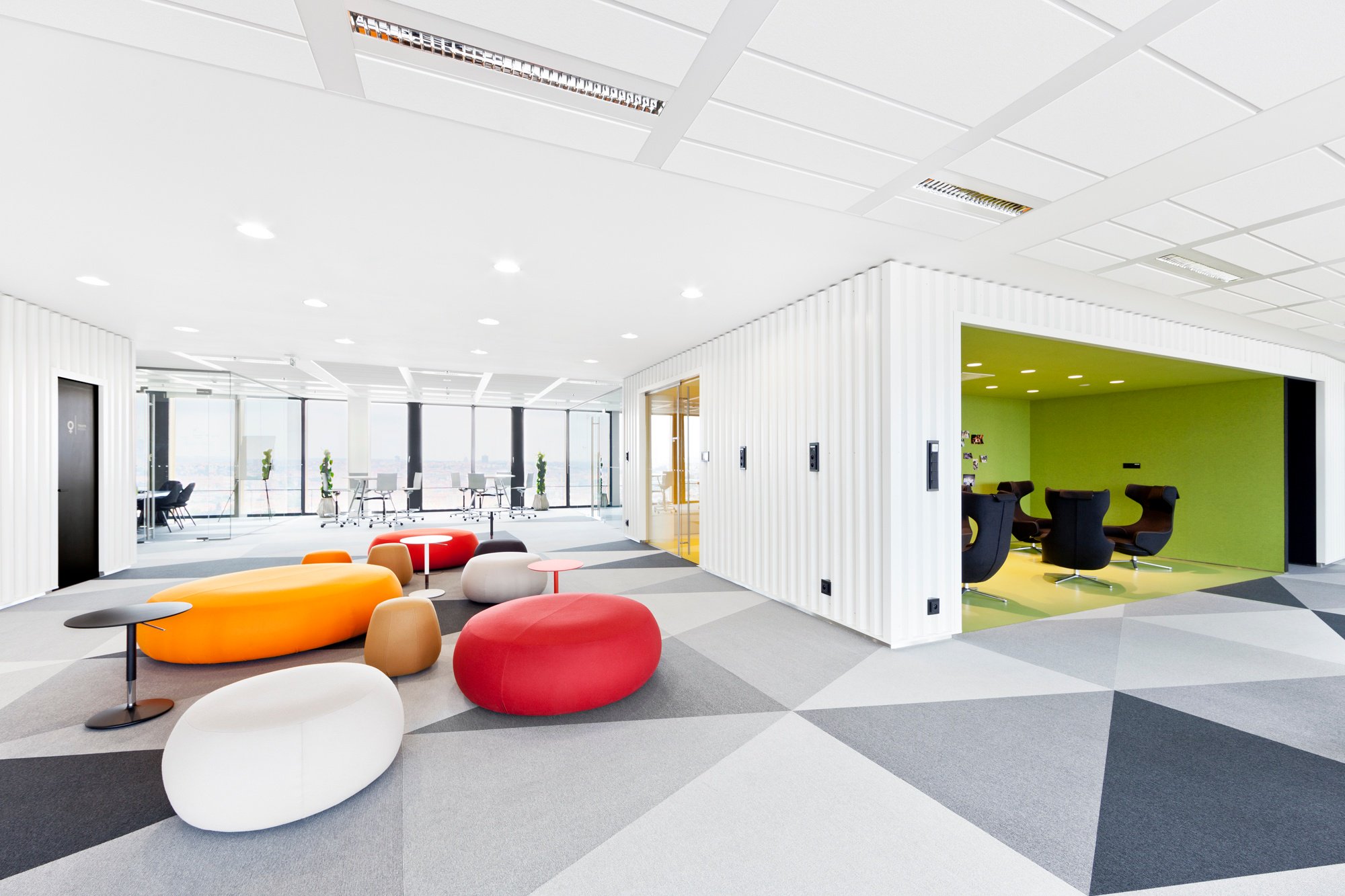 Today, Avast Software s.r.o. uses cutting-edge technologies to protect their users in real time. The Artificial Intelligence powering their products relies on the cloud-based machine learning engine. This tech is found in all of Avast's data centers, which is why their products are so fast, safe, and reliable.
What is Avast SecureLine VPN
Avast SecureLine is a subscription-based VPN service. It is developed by Avast Software s.r.o. It is a cross-platform service, meaning that Android, iOS, Windows, and Mac users can benefit from using it.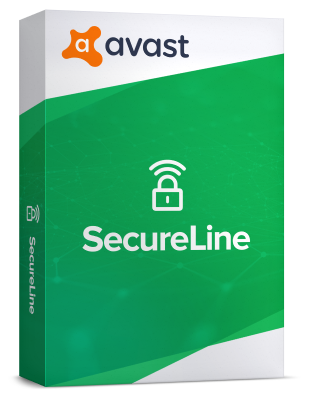 SecureLine VPN encrypts both ongoing and incoming internet traffic. Everything goes through Avast data centers, which make the entire process even safer. Avast SecureLine VPN service provides:
access to geo-blocked content
increased security and protection from cyber attacks, surveillance and data theft
complete online anonymity while browsing, downloading and communicating
Let's see what exactly Avast SecureLine VPN has to offer.
Avast SecureLine VPN Reviews - December 2018
Avast VPN was reviewed by many well known reviewers:
PCMag Asia says it has good speed test results, good performance in hands on testing, geographically diverse VPN servers, and simple signup and interface. However they also say that Avast SecureLine offers few features and at a relatively high price.
ShivarWeb says that the service is a good choice for new VPN users, so if you want the simple VPN app for your computer or mobile devices, Avast SecureLine VPN can give that to you. It provides a safe way to browse the internet without the bells and whistles of other VPN providers. They are pretty good about maintaining an open proxy for Netflix and other entertainment options.
TheBestVPN say that "their VPN is incredibly easy to use, and the call-in customer service option was great!", however "all in all, Avast isn't a bad choice, but it's not the best one".
Tech.co's verdict is that the ease-of-use is Secureline's biggest plus point, making it a strong VPN to choose for first-timers, and from a trusted name, too. Some of the plans will seem oddly restrictive for advanced users, while the limited set of features doesn't do much to impress. Most importantly, though, it's reasonably fast and solid on security and privacy.
As of rating goes, thevpnlab gave SecureLine VPN a final rating of 9.0 out of 10.
If you are here looking for reddit reviews of Avast VPN, you'll be surprised to know that the popular /r/vpnreviews subreddit does not have a post about Avast VPN.
We will keep updating this post to include a summary of all Avast VPN Reviews 2019 as well. After digging through the specifications, settings, help files and testing it by ourselves, here is what we discovered:
Security and Encryption
We have to admit that Avast SecureLine VPN is one of the most secure VPNs out there. It features all the technologies necessary to provide safe surfing even on public Wi-Fi networks.
Users of Avast SecureLine can use one of the two protocols: OpenVPN on UDP for Windows and IPSec for Mac. The military grade encryption is there to scramble all the data and make it unreadable should anyone come around sniffing. 256-bit encryption is state of the art and it is one of the best in the world. Even if the hackers were in possession of the world's fastest computer, they would not be able to crack it. This is why many experts refer to 256-bit encryption as brute-force proof encryption.
While you are using the VPN, some of your personal data can easily leak outside the connection. This can happen without you even realizing it. Your data, IP and location can become known to anyone who knows to look in the right place. Avast SecureLine VPN prevents this by implementing a DNS leak protection.
A VPN connection can drop for numerous reasons. When this happens, you will no longer have the protective VPN umbrella over your online activities. To prevent anyone from seeing your IP while you are not protected, Avast SecureLine has a killswitch. This feature will disconnect you from the Internet when the VPN connection fails.
Speed
Internet connection is always slower via VPN than the one that you get by default from your ISP. This is simply because a VPN has to encrypt all the data before it sends it to the server. Due to all the encryption going on, users can experience slower internet connection speeds.
Avast has done a great job with their encryption algorithms. SecureLine VPN will allow you to surf the internet in a safe fashion and enjoy lightning-fast loading speeds. During the test, we didn't encounter any problems, even when we surfed with a torrent downloading in the background. The connection speed was slower when compared to the one without VPN enabled. But the difference was not significant. It is a good trade off considering the security and anonymity SecureLine VPN provides.
According to SecureLine VPN specifications, the team of experts working at Avast always keeps speed checked and under control. The theoretical maximum bandwidth of SecureLine VPN servers is 2Gbits/s. The internal stress tests are impressive and get speeds of 450-600 Mbits/s.
Ease of Use
SecureLine VPN is a very easy to use software solution. Everything seems to be straightforward with this VPN. The installation process is rather simple and getting around the settings is quite smooth as well. This applies to both desktop and mobile SecureLine VPN clients.
A simple click on the Change Location button will get you inside the menu where you can choose a new location for yourself. Switching the servers, despite their location is ultra fast. We were very surprised with how simple it is to onboard and use SecureLine VPN.
Does Avast VPN Keep Logs?
Avast SecureLine VPN has a very strict and transparent log policy. In order to improve the service, prevent abuse, and allow users to enjoy the smooth ride, Avast VPN will only log and store connection logs. These logs include:
Bandwidth usage
Duration of the connection
Time of connection and disconnect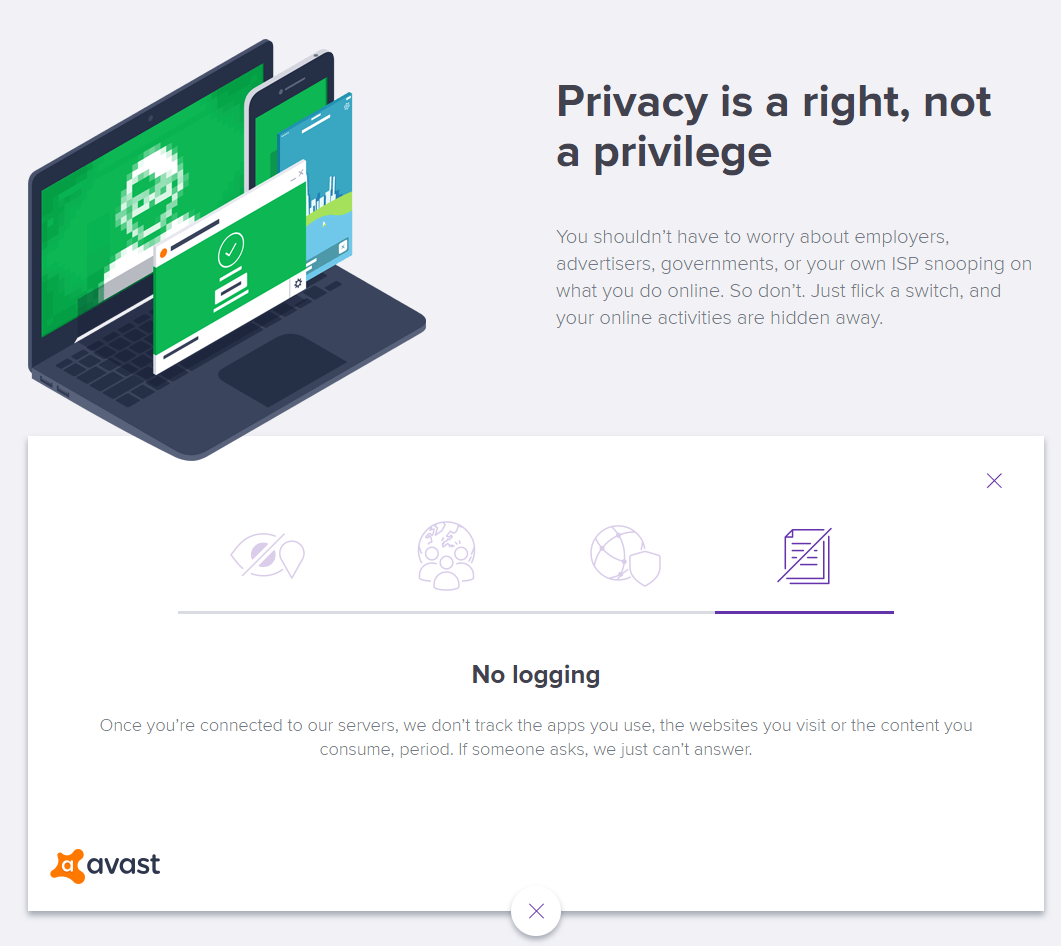 Avast SecureLine VPN will under no circumstances log the users' activity. This means that this VPN service provider won't log which websites you visit, what data gets transferred during the connection, nor your IP and the IP addresses you visit. Is Avast VPN Good For Torrenting If you enjoy P2P, then you will be happy to learn that Avast SecureLine VPN supports it. But you want to make sure to which servers you choose to connect since not all of them are P2P enabled.
If you want to connect to European servers choose any of the following:
Prague, Czech Republic
Frankfurt, Germany
Amsterdam, Netherlands
Paris, France
London, United Kingdom
Avast VPN P2P enabled data centers in the USA are:
Seattle, Washington
Miami, Florida
New York City, New York
Avast SecureLine VPN Multi-Device
Avast SecureLine VPN supports the use of multiple devices. You can have it up and running on your Mac and Windows PCs, as well on your Android and iOS smartphones. There are a few important things to note here.
Avast SecureLine VPN license becomes automatically active on the device you purchase it on. If you want to use it on any other device you will have to activate it manually.
The number devices on which you can use Avast SecureLine VPN depends on the subscription you purchased. **One license can be used on up to 5 devices. **
Many blogs report that Avast subscription is restrict to the platform you purchased it for. For instance, if you purchased an Avast SecureLine VPN license for Windows, you will be able to use it on 5 Windows devices. However there's a multi-device license, which allows you to use 5 devices of any kind.
Avast VPN Free
For all those of you who want to try Avast SecureLine VPN for free, Avast has a 7-day free trial option available at all times throughout the year. All you need to do is register for the free trial, download the VPN client and enjoy the internet in invisible mode.
Keep in mind that free trial for desktop PCs won't require of you to enter your billing information, but the one for mobile devices will. After your 7-day free trial expires on your desktop, the VPN will be turned off automatically. But if you forget it on your mobile device, you will get charged. If you decide to take this VPN for a test drive on a mobile device, make sure to cancel the free trial before it ends.
Pricing
The Avast SecureLine VPN license is subscription based. SecureLine VPN Multi-Device license for Windows and Mac is $79.99 per year. If you don't want the Multi-device perk you can get your hands on the license for $59.99 per year.
When it comes to the mobile platforms, a SecureLine VPN license for Android and iOS is $19.99 per year. You can cancel your subscription at any time and keep your license active until the expiration date.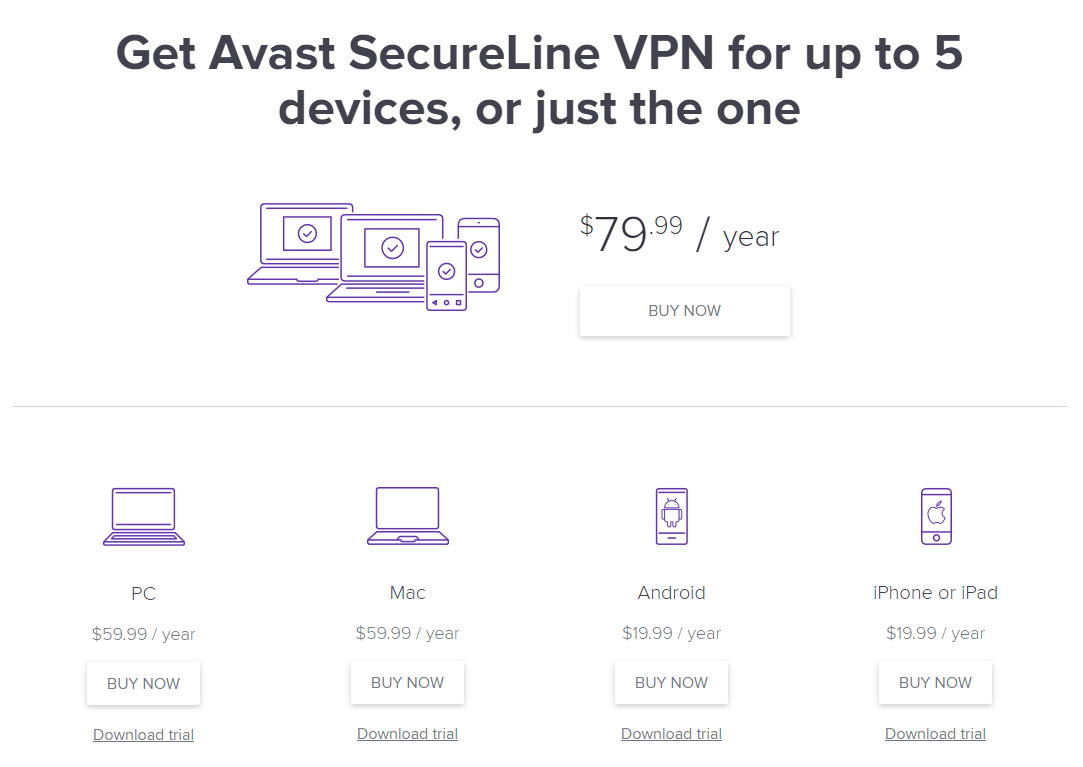 Avast's refund policy states that you won't be able to get a refund if you download or upload over 10GB of data. The refund policy is also void if you use SecureLine to connect over 100 times.
Avast SecureLine Discount
Avast offers great discounts for companies. This discount is tailored to promote safe and secure networking for startups, mid-size businesses, and enterprises. All Avast business licenses are 20% off. Avast Business Antivirus Pro Plus license is $47.99 per year down from $59.99 per year, and it includes the SecureLine VPN license.
Download Avast VPN
There are two ways to get Avast SecureLine VPN on your device. If you already have the Avast Antivirus Suite, you can enable the VPN from the dashboard. You can also directly download a standalone SecureLine VPN client from the official website and either start your 7-day free trial or activate a license.
Avast Customer Support
Avast has a great knowledge base. There is a lot of information about SecureLine VPN in there, ranging from how it works and how to activate it, to pricing and troubleshooting. If you can't manage to find a solution to your problem or have something to clear up, you can contact Avast over the phone. Their Call Center is available 24/7 and it is very responsive.
Common Problems with Avast VPN
We didn't experience any problems while streaming and browsing on SecureLine VPN. Some of the most common problems the users have reported are:
Dead internet connection upon activating SecureLine VPN
This often happens on public WiFi networks when the signal is too weak or if users forget to accept ToC of the internet provider. Sometimes changing a browser will resolve this. Windows users might also try disabling the smart multi-homed named resolution service.
SecureLine VPN fails to establish a connection
Windows users can resolve this by choosing a different server location, restarting the computer, or checking whether the firewall is not causing problems. Mac users have to make sure that IPsec or VPN passthrough is enabled on their routers, and the UDP ports 4500 and 500 are open in their firewall.
How To Cancel Avast VPN?
If you decide to cancel your SecureLine VPN subscription whatever the reason might be, you can do it very easily.
On Android devices, open the Google Play Store, access the Menu and select Subscriptions. Find and tap on the Avast SecureLine VPN. Simply tap on the Cancel Subscription and follow the instructions to complete the process.
On iPhone or iPad, you have to enter your device settings and launch the iTunes & App Store. Tap the Apple ID and activate View Apple ID. After you sign in, you need to tap Subscriptions, select Avast SecureLine VPN and Cancel Subscription. Follow the instructions to complete the subscription cancelation process.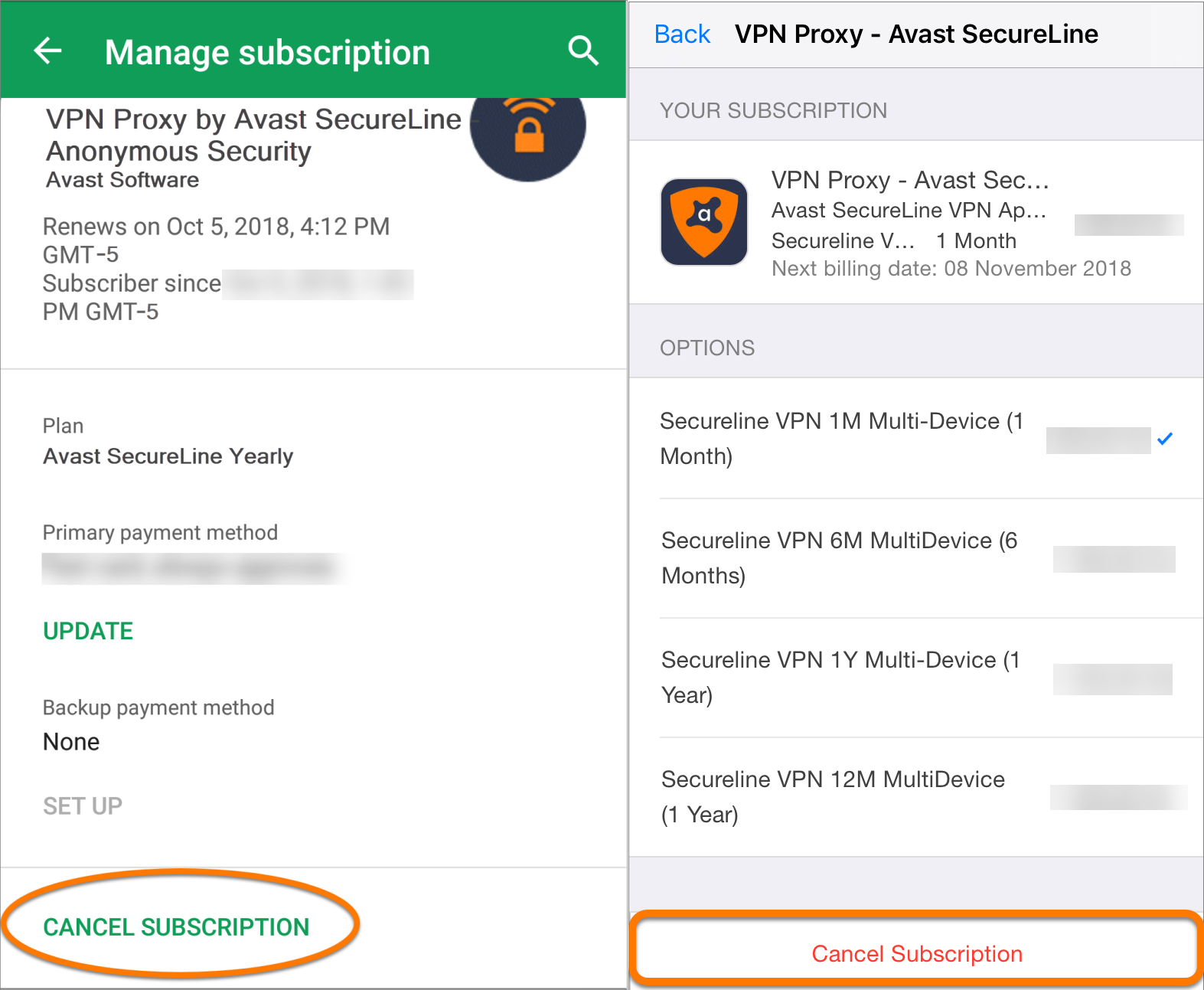 On Mac, you need to open iTunes and sing in with your Apple ID. Click on the Account button in the menu and access View My Account. Locate Settings > Subscriptions and click Manage. Find your SecureLine subscription, click Edit > Cancel Subscription.
Windows users have to check which of the Avast distributors processed their Avast order because the cancelation process is different for all 5 of them (Digital River, Nexway, Allsoft, AstroPay and Cleverbridge).
Summary
Avast SecureLine VPN performed very well during the entire test drive. We used it for streaming, P2P, browsing, and gaming, on both mobile and desktop devices. The connection speed is fast and stable, while the encryption takes care of anonymity. We tested SecureLine VPN with several popular leak tools and didn't record any WebRTC, IP, or DNS leaks.
Avast SecureLine VPN is a sophisticated, yet very easy to use solution. All the above justifies the price tag on each of the SecureLine VPN subscription plans.
Our recommendation
Since Avast is a reputable company which provides a free trial for all platform, we suggest simply trying it out for yourself and decide: get Avast SecureLine VPN
Are you using Avast VPN? Have you tried it? Decided not to give it a try?
Comment below and let us know!
---
Share