Xerox WorkCentre 3615: Black and White Multifunction Printer Review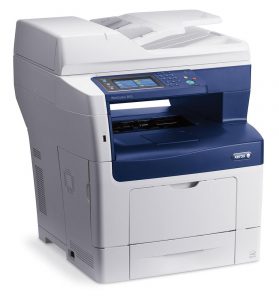 From desk-top equipment in small offices to central printing and copying systems in larger departments, the Xerox Workcentre 3615 adapts to its business application.
The Workcentre 3615 B & W multifunction printer is an interesting device, with its 45ppm-per-minute speed, paper capacity of up to 2,350 sheets, and networking capabilities primarily for businesses.
Due to the modular expansion with paper cassettes, the machine can be specifically adapted to the working conditions, but it is surprising that the wireless interface is only optionally available. In addition, retrofitting the radio interface with over 80 is an expensive pleasure.
In addition to a color touch screen, Xerox also uses a classic control panel with numeric keypad and various function keys. This allows all functions of the device to be called up quickly.
The Xerox Workcentre 3615 can be upgraded with three additional paper cassettes and a base cabinet to a stately stand-alone unit on wheels. So the machine is equally suitable for small and large departments. Companies looking for a reliable system for copying, printing and scanning will find the right machine with the basic machine.
Our Conclusion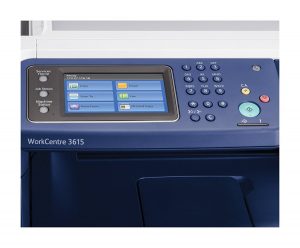 When completing the required printing and copying tasks, the Workcentre was able to compose most jobs with flying colors. For high-quality prints, the machine's speed drops from 45 pages per minute in places to just under ten pages per minute. Duplex printing also takes a long time.
The Workcentre prints texts crisp, even in font sizes that can only be read with a magnifying glass. However, the print quality of documents with pictures and graphics decreases significantly. A clear banding in large graphics reduce the otherwise good impression of the machine. For internal documents, the overall quality may be sufficient, but for customer brochures the claim is not enough.
The Workcentre 3615 is a first-class scanner for professional document archiving. The machine can digitize templates of all kinds with a very good contrast range. However, the color fidelity remains a bit on the track. Although the colors look natural, but are lighter, so the hue is not quite consistent.
Xerox is in the midfield of comparable multifunction printers with its follow-up costs. Other manufacturers can offer cheaper side prices in this performance class. Replacing the consumables is easy: the toner and the image drum are removed from the device without causing toner contamination.
Positive
High printing speed
Good scan quality
Good copy quality
Good text print quality
CCD scanner
Scanner software included
Negative
Wlan for mobile print only optional and expensive
Strong streaky prints
Toner saving mode hidden in the printer driver
Paper output slot holds only 250 sheets
Slow printing speed with high quality
Printing costs could be cheaper
---
Share